Richmond Virginia is a Metropolitan Area steeped in history and also prepared for the future. During the Revolutionary War era, Richmond was the locale of several important conventions at which such notables as Thomas Jefferson and Patrick Henry sounded the call for freedom and determined the course of a fledgling nation. Later, Richmond proudly served as the capital of the Confederate States of America.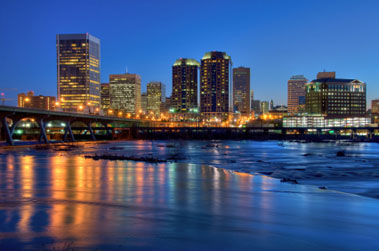 Today, Richmond and its booming metropolitan area (which also encompasses the counties of Chesterfield, Hanover, and Henrico) is home to over 1.2 million residents, and is regarded as a prime example of the ideal "New South" community — one that successfully blends its heritage with modern social and industrial development.
The City of Richmond straddles a natural physical barrier, the James River, which segments greater Richmond into several distinct localities, and is among a handful of mid-sized cities to offer easy access to the ocean, mountains and our nations capital. Richmond's livability can be measured by its beautiful neighborhoods with striking architecture, a vast cultural and educational heritage, and noted historic prestige tracing back to the early English settlers.
The city's strategic location in the middle of the eastern seaboard puts it within 500 miles of nearly half the entire population of the United States and only 100 miles from the nation's capital in Washington, D.C. Combining this asset with a mild climate, gently rolling terrain, and a wealth of cultural and recreational attractions has made Richmond another Sun Belt city on the move, and all indications point to a promising future.
Richmond VA Real Estate Market
If you are looking for homes for sale in the Richmond Virginia area, there is an abundance of real estate to choose from. Houses in the Richmond area differ enormously depending on their style, location, size, age and price.
Homes for sale around Richmond include:
Single Family Homes
Duplexes
Golf Course Homes
Riverfront Homes
Country Homes
Horse Farms
Victorian Homes
Restored Housing
The prices of real estate in Richmond ranges from under $100,000 to well over $1,000,000, and therefore fits any budget.
Richmond Schools
Excellence in education makes the Richmond Metropolitan area a great place to buy a home.
For the third straight year, two Richmond City high schools have been ranked among America's best by U.S. News & World Report, according to an article published in the Richmond Times Dispatch. Richmond's Bellevue and Fairfield Court elementary schools recently received the Governor's Award for Educational Excellence, the state's highest performance honor under the Virginia Index of Performance (VIP) incentive program.
Find out more about schools in Richmond VA.
If you have any questions about Richmond area or Richmond real estate, contact Buyer's Benchmark Realty. Use the form to your right to gain instant access to the Richmond MLS listings and to search for properties for sale.