Buyer's Benchmark Realty in Richmond, Virginia, is an exclusive buyer's agency serving ONLY homebuyers in Richmond. We don't have listings because we don't represent sellers. This eliminates any conflict of interest and you get the property you want instead of a property a Realtor wants you to buy. We represent homebuyers only, 100% of the time.
Only a true Buyer's Broker will work as your advocate and negotiator to give you, the homebuyer, the competitive edge you need for a successful money-saving purchase. It's the intelligent way to buy real estate in Richmond and surrounding areas. There are many reasons why you should use an Exclusive Buyer Agent with your next home purchase.
The traditional Realtor would much rather have you purchase one of their listings so they can retain 100% of the commission.
Read the Standards of Practice of Buyer's Benchmark Realty.
Buyer Agents vs. Traditional Agents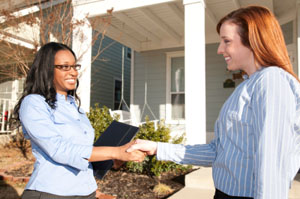 Does it make a difference?
You bet it does! Sprint Corporation conducted a study of home purchases by their relocating employees which found those who worked with traditional agents averaged paying six percent more than those who used Exclusive Buyer Brokers. That's a savings of about $18,000 on a $300,000 home.
Don't cheat yourself. You work hard for your money. Why pay more than you have to when you buy a home? If you are in the market for Richmond real estate, call our real estate agents at Buyer's Benchmark Realty , the Richmond area's premier Exclusive Buyer's Agent.
Why not let our experienced Real Estate Professional work to your advantage when buying your next home in the Richmond area?
Check out the Frequently Asked Questions section to find out more about Exclusive Buyer Agency (EBA).
Tell us about your Richmond real estate needs and we'll get in touch with you to show you how we can help you save money on your next home purchase.