Originally settled by French Huguenots in the early 1700's, Powhatan County was created by The Virginia General Assembly in 1777. The County was named in honor of the Indian Chief Powhatan, father of Pocahontas.
There are approximately 195 farms in Powhatan County. The average farm size is 221 acres. Principle crops include corn, small grains, soybeans, tobacco, and hay.
Powhatan County VA Real Estate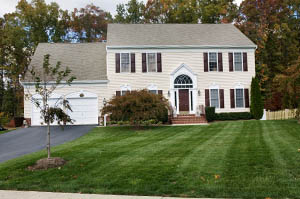 Powhatan offers a wide variety of housing choices. Homes range from affordable priced housing to $500,000 plus housing developments. Revolutionary War period homes are available as well as modern houses with the latest amenities. The predominant lot sizes for homes is from two to ten acres in area.
Powhatan County Lifestyle
Powhatan's economy is changing due to surrounding area's growth. No longer can workers count on lifetime jobs with mainstay manufacturers and banking firms, as the former banking hub is now more like a financial byway. Credit-card and insurance companies are picking up where departed bank and brokerage headquarters left off.
Powhatan County's schools are under the Powhatan County Public School system. Find out more about schools in Powhatan County VA.
If you have any questions about the Powhatan County area or Powhatan County real estate, contact Buyer's Benchmark Realty. Use the form to your right to gain instant access to the Richmond MLS listings and to search for Powhatan County VA homes for sale.