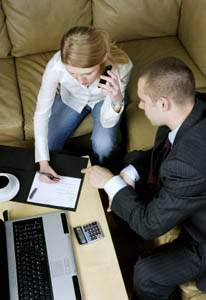 When it comes to Buyer Agency and buying real estate in Richmond, Virginia or any of the surrounding areas, there are several questions just about everyone wants to know the answers to. We have compiled those here for your review. If we have failed to answer a question you may have, please contact us and ask your specific questions. We'll be happy to respond to your inquiry.
Q. Won't it cost me more to use a 'Buyer's Agent' than a traditional agent?
A. Not at all. In fact, in most cases, through our multiple ways for helping you negotiate the best possible price, terms, rates, and closing fees, we'll actually end up saving you money.
Q. Can a Buyer's Agent represent me if I buy a 'For Sale By Owner'?
A. Yes. The Buyer's Agent discloses to the seller that he or she is representing the buyer and normally the seller is receptive to paying our fee.
Q. Why would a Buyer Broker work for a better price for the buyer if the agent is working on commission?
A. In the usual commission split between a broker and an agent, a $5,000 difference in price only results in a minimal difference in the commission the agent receives. Good will and word of mouth advertising are much more valuable to Buyer's Benchmark Realty , not to mention the agent's legal obligation to represent the buyer's best interest.
Q: Some agents say they can represent both me and the seller. How can this be?
A: You be the judge. If you were selling a home, would you want to list it with an agent who represents the buyer? Of course you wouldn't, no more than you would want to be put in a position of having to divulge your personal finances to the agent representing the seller. What buyers usually don't understand is that when an agent shows a buyer any home listed with that agent's firm, that agent, or his or her firm, is obligated to protect the interest of the seller. You also must be careful never to fall into a dual agency situation!
Q: Can a Buyer's Agent tell me if I am paying the right price for a home in Richmond?
A: Your Buyer's Agent can research previous sales to determine the value of a particular home in a given neighborhood in Richmond. Completing a competitive market analysis will help determine the price you should pay.
Q: Does Buyer's Benchmark Realty have access to all resources like the Multiple Listing Service?
A: Absolutely yes, and even more! We belong to the Richmond MLS, so we can show you homes for sale in Richmond listed with this service. In addition, since we represent you, and never sellers, we regularly show homes that are "for sale by builder" and "for sale by owner."
Q: Isn't the agent who shows me homes always representing me by law?
A: Don't count on it! Not unless you have a written Agency Agreement. Agents who list property normally enter into a signed contract with the sellers to represent them in the sale of their property. This same contract may permit the listing agent to use "sub-agents" to help secure a sale. Unless you have a written Agency Agreement with a real estate agent promising to represent only YOUR best interest, you may find yourself working with an agent who is obligated to act in the best interest of the seller.
If you have other questions about Buyer Agency, or how Buyer's Benchmark Realty can help you, please contact us right away.