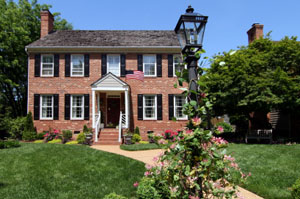 Chesterfield County is part of the Richmond-Petersburg MSA and is bounded by the cities of Richmond, Petersburg, Hopewell and Colonial Heights. Situated between the James and Appomattox Rivers, Chesterfield's land area totals 446 square miles and consists of a pleasant mix of suburban communities that are within a two-hour drive of Virginia beaches, the Blue Ridge Parkway and Washington D.C. Chester and Midlothian are one of the interesting communities within Chesterfield County.
There are more than 30 public parks in Chesterfield County featuring nearly 3,000 acres of green space, an abundance of historical landmarks and several sports complexes that include playing fields. Pocahontas State Park is also located in the county.
Chesterfield County VA Real Estate
Chesterfield real estate is far out enough in the country to retain its rural character, but within easy driving distance of big city amenities. Due to Chesterfield's geographic size, housing tends to be situated on larger lots, with lot prices having less cost. Due to lower initial land costs, housing in Chesterfield frequently has more gross living square footage than comparable property in Richmond's other major suburban county, Henrico.
Chesterfield County Schools
Chesterfield's public schools are among the area's best. With the largest student population (over 53,000) in the area, Chesterfield County's school system is also the single largest employer in the County.
Find out more about schools in Chesterfield County VA.
If you have any questions about the Chesterfield County area real estate, contact Buyer's Benchmark Realty. Use the form to your right to gain instant access to the Richmond MLS listings and to search for Chesterfield County VA homes for sale.