Richmond Single Family Homes and Starter Homes
Richmond's historic architecture is remarkably well preserved. In your search for a home around the Richmond area, you'll find the following architectural styles spread throughout its many historic and non-historic districts:
Colonial
Cape Cod
American Four Square
Spanish
Georgian
Queen Anne
Italianate
Arts and Crafts
Tudor
Revival
Romanesque
Gothic
and of course modern.

With all of this history and culture, you might expect Richmond real estate to be expensive. But this is not the case. The average single family home sells for around $270,000, while Richmond condos and townhouses are in the $225,000 to $465,000 range.
Richmond VA Luxury Homes For Sale
Richmond offers everything you need to experience a luxury lifestyle in a historic place where Patrick Henry once famously declared, "give me liberty or give me death."
If you're interested in luxury housing, the Richmond area has something to meet almost every taste and budget. Here you can find some outstanding pricing on single family homes on the James River, or a luxury golf course home. Richmond includes gated communities filled with amenities, or sprawling ranches for the horse lover.
Older Homes in Richmond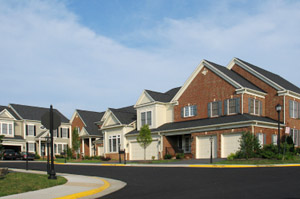 Richmond not only features some exquisite older homes, but also features homes for sale that are listed on the National Register of Historic Places. Many of the older estates are also perfect for a horse lover featuring stalls and barns, and everything else you might need to offer top notch care for your equines. Some older homes feature modest size lots, some older homes sit on multi-acre estates, with everything in-between. Older homes have their own history and homeowners might find it fascinating to uncover the history of their Richmond area home.
Planned Communities around Richmond
In a diverse real estate market such as the Richmond area, it is not uncommon for a multi-million dollar mansion to be located next to a smaller home. Homebuyers who prefer to own a house in a community with other houses of similar value should definitely consider living in a planned community.
There are literally dozens and dozens of planned communities in and around the Richmond area to choose from.
Some of the planned communities around Richmond include:
Cascade Creek
Stoney Glen South
Stewart Village
Shady Banks
West Broad Village
Annandale Chase at Magnolia Green
Rutland
Haywood Village
Westcott at Grey Oaks
Bellingham at Twin Hickory
Abbey Village at Charter Colony
Courtyard Homes at Tarrington
Collington
Rivers Trace
Rutland
Harpers Mill
The Highlands
Greenbriar Woods
Meadowville Landing
…just to name a few.

If there is anything you wish to know concerning Richmond real estate we will be happy to answer any questions you may have with NO OBLIGATIONS. Contact us via email or give us a call at (804) 559-2230. Use the form to your right to gain instant access to the Richmond MLS listings and to search for Richmond VA homes for sale.