Purchasing a condo, townhouse or apartment in historic Richmond is a great investment.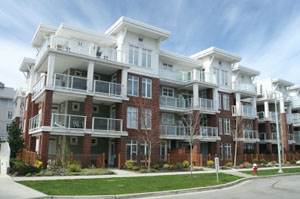 When you say the word "condo" most buyers have a vision in their mind of what that looks and feels like. It's a dwelling in an apartment-type building where the purchaser owns the walls in the unit, as well as the personal property within it and pays taxes on that bit of ownership.
As far as ownership, the condo owner has a title to the individual unit, much like the title to a house.
Condo owners pay a monthly or quarterly maintenance fee, which usually pays only for common area maintenance, such as pool upkeep, garbage removal, water and some utilities.
Property taxes in a condominium are the responsibility of the individual owner.
If you have any questions about Richmond area or Richmond condos, contact Buyer's Benchmark Realty. Use the form to your right to gain instant access to the Richmond MLS listings and to search for Richmond condos for sale.