Due to the geography in which the James River approaches Richmond from almost due west, and turns almost due south below the fall line for about 8 miles before turning east again, the land within Henrico County currently encompasses much of Metropolitan Richmond's West End, its North Side, and East End areas.
Henrico County VA Real Estate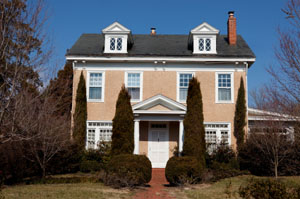 Residential real estate in Henrico County is expensive in comparison to other areas in Greater Richmond. Since most of Henrico's residential area is concentrated in its western area, lot sizes tend to be smaller. With smaller lots, the majority of the housing is two-story in order to maximize square footage on the smaller lot sizes. Short Pump is located in Henrico County and it's one of the fastest growing communities in the Richmond area.
Henrico County Lifestyle
One of Henrico County's biggest attractions is the Richmond International Raceway, a quarter-mile drag racing track which offers fans more than sixty races annually. Other popular nearby destinations include the Virginia Aviation Museum, home to thirty historic aircraft; the Lewis Ginter Botanical Gardens, a 40-acre garden estate; the Three Lakes Nature Center and Aquarium, an educational facility open free to the public; and the county's twelve golf courses, including the Belmont Golf Course.
Henrico County Schools
The school division known as Henrico County Public Schools consists of 45 elementary schools, 13 middle schools, 9 high schools and 2 technical centers within one school district.
Find out more about schools in Henrico County VA.
If you have any questions about the Henrico County area or Henrico County real estate, contact Buyer's Benchmark Realty. Use the form to your right to gain instant access to the Richmond MLS listings and to search for Henrico County VA homes for sale.