Richmond's ONLY Exclusive Buyer Agency
Welcome to Richmond Virginia, a Metropolitan Area steeped in history and also prepared for the future. The Richmond area is home to over 1.2 million residents who revel in the city's history and culture while enjoying all of the amenities of a modern and thriving city.
At Buyer's Benchmark Realty, we specialize in assisting buyers of Richmond real estate by offering 100% exclusive buyer agency. This means simply, we do not represent sellers, but only buyers looking for Richmond real estate.
The Richmond metropolitan area is made up of the City of Richmond and several suburban counties. The City of Richmond straddles a natural physical barrier, the James River, which segments greater Richmond into several distinct localities. The principal suburban counties of Hanover and Henrico are north of the James River, while Chesterfield County is south of the James River. Each of these localities is a separate municipality with specific advantages (and disadvantages) depending upon your lifestyle and needs.
Richmond Homes For Sale
Real estate for sale in Richmond comes in a variety of styles and price ranges featuring beautiful neighborhoods with striking architecture, all of which will satisfy every pocketbook or family lifestyle.
Richmond real estate, including all the condos for sale in Richmond, as well as land for sale in Richmond, can be found by searching the Richmond MLS here.
Values of Richmond real estate can often be determined and influenced by the Richmond area schools which service a particular neighborhood.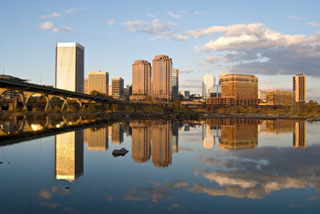 Richmond is among a handful of mid-sized cities to offer easy access to the ocean, mountains and our nations capital in Washington, D.C. Richmond's livability can be measured by its beautiful neighborhoods with striking architecture, a vast cultural and educational heritage, and noted historic prestige tracing back to the early English settlers.
Buying Richmond real estate is an important decision, and involves you obtaining a lot of information. We provide you with the ability to search for any Richmond real estate for sale, as well as moving tips, Richmond area school information, and more.
If there is anything you need concerning Richmond real estate that our site doesn't provide you, we will be happy to answer any questions you may have with NO OBLIGATIONS. Just complete our brief form